Join Centennial Village Museum for its opening weekend event, Centennial Celebration, from 10 a.m. to 4 p.m. Friday, May 26 and Saturday, May 27 at 1475 A Street.
Explore the museum's grounds, tour historical buildings, and watch high plains  living demonstrations. Attend two special performances by the Buffalo Soldiers of the American West at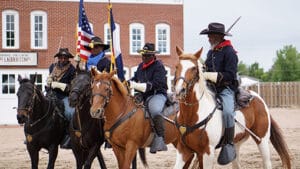 11 a.m. and 2 p.m. on Saturday, May 27.
Centennial Village Museum opens for regular summer hours from May 26 through Sept. 2.
Live Demonstrations of Early West Skills
Centennial Village Museum preserves history through demonstrations of early West skills. These presentations reveal how demanding high plains living was for settlers. Centennial Celebration includes live demonstrations of blacksmithing and woodcarving.
Buffalo Soldier Reenactors  
The Buffalo Soldiers of the American West's presentation highlights their essential role in the country's westward expansion. The Buffalo Soldiers were members of the 9th and 10th U.S. Cavalry, both all-Black regiments. They built forts and railroads, delivered mail, guarded stagecoaches, and protected settlers. This history is not widely known, making this presentation a must-see for visitors.
Centennial Village Museum opened in 1976 and is a part of the City of Greeley Museums. The site is a living history experience with more than 35 historical buildings on 8 acres of beautifully landscaped grounds. The museum features costumed interpreters and heritage farm animals. The museum preserves and interprets American Western heritage in the Colorado high plains region. It houses some of Weld County's oldest structures and hosts annual special events. Visit greeleymuseums.com to learn more.
###