Custom artwork of "Rattlesnake Kate" is now available on limited edition T-shirts at the Greeley History Museum.
T-shirts can be purchased while supplies last at the Greeley History Museum, 714 8th Street.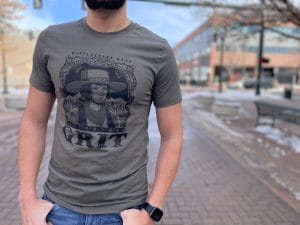 The design by graphic artist Jordan Nicholson is a tribute to the pioneer's "Colorado grit." Kate became famous after fending off 140 rattlesnakes in the early 20th Century.
Nicholson is a Colorado native and University of Northern Colorado graduate. His artwork is a modern take on Kate's well-known style. Learn more about Nicholson's work at nicholson.ink.
 A Northern Colorado Legend
The story of Kate Slaughterback's heroic stand against 140 rattlesnakes is legendary. Her famous rattlesnake skin dress, shoes, and neckband reside at the Greeley History Museum. A replica of her home stands among the historical buildings at Centennial Village Museum.
The historical figure recently experienced a renaissance through the "Rattlesnake Kate" musical. This show was the work of UNC graduate, Neyla Pekarek, a Grammy-nominated musician formerly of the Lumineers.
Learn more about "Rattlesnake Kate" at greeleymuseums.com.
About the Greeley History Museum
The Greeley History Museum showcases and preserves Greeley and Weld County's history through permanent and temporary exhibitions, educational programs, research, and collections. Check out the museum's main exhibit, "Utopia: Adaptation on the Plains," and then head over to one of the museum's other galleries, which feature rotating themes throughout each year.
For more information, visit greeleymuseums.com.
###