Centennial Village Museum launches three Saturdays of historical workshops from 10 a.m. to 4 p.m. August 13, 20, and 27 at 1475 A Street. Visitors can practice heritage activities, like the basics of woodworking, historical games, and hand loom weaving.
Recommended for ages 10 and older. Workshop fees included in regular museum admission prices and all materials provided. Visit greeleymuseums.com for ticket prices.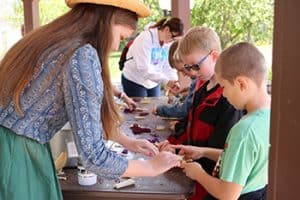 Hands-On History:
Soap Carving
For the Aug. 13 workshop, Gary Alexander, museum volunteer and Centennial Village woodcarver, provides a hands-on history lesson by teaching the basics of woodworking through soap carving.
Historic Toys
The Aug. 20 workshop is all about fun and historical games. Master the art of stilt walking, send hoops twirling into the sky in the game of "Graces," and make a cornhusk doll to take home.
Hand Loom Weaving
On Aug. 27, get crafty with museum staff as they teach the basics of weaving. Learn to make hand looms, pick from a selection of colorful yarn, and take home a unique creation.
Visit Centennial Village Museum during regular summer hours, 10 a.m. to 4 p.m. Fridays and Saturdays through Sept. 3.
Opened in 1976, Centennial Village Museum is a living history experience that features more than 35 historical buildings, costumed interpreters, heritage farm animals, and 8-acres of beautifully landscaped grounds. As a City of Greeley Museums site, Centennial Village Museum preserves and interprets American western heritage in the Colorado high plains region, housing some of Weld County's oldest structures and hosting several annual special events. Visit greeleymuseums.com to learn more.
###
For more information, media representatives should contact:
Geoff Havens, curator of historic sites
970-350-9592