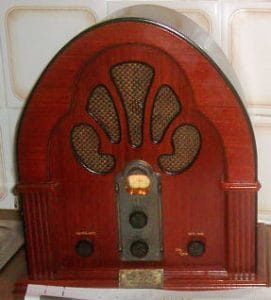 "Pistol Packin' Mama" Popular, but in Short Supply in Greeley in 1943 – '44
By Peggy A. Ford Waldo, September 14, 2020
Wars and pandemics are rife with fears and shortages. On America's home front during World War II, mandatory rationing reduced hoarding, ensured equanimity among all users, and preserved precious food and materials for the war effort. In 2020, the COVID-19 pandemic coupled with mandated sheltering-in-place and the disruption of the supply chain created a consumer rush to stock up in bulk on personal items (toilet paper, hand sanitizer) and food (pantry staples, canned and baking goods, hamburger and other meats). Common provisions and products, like sugar during World War II and toilet paper during the current pandemic, became luxury items in a nano-second!
Wars and pandemics can stretch on indefinitely, and mandated face coverings, social distancing, and travel restrictions have people feeling "blue" and "singing the blues" which brings this writer to the topic of music and the shortage of popular "hit singles" records in Greeley in 1943. Recent articles in the Greeley Tribune have underscored the importance of music to calm and uplift people's spirits. In 2020, Pandora and other online apps make it easy to access favorite musical genres, but this wasn't the case for Greeley's music lovers in 1943.
By the 1940s, radio brought classical and pop music into many people's home, and created a demand for sheet music and gramophone records. At this time, records were pressed from shellac mixed with carbon black and heated to make the molding material for records. Shellac is a resin secreted onto trees by female lac insects indigenous to India and Southeast Asia. There was a shortage of virgin shellac and labor due to World War II. Shellac was reclaimed from used records turned into music stores, but classical music recordings were given a priority in the industry. An article in the October 23, 1943 Greeley Tribune, "Most Popular Records Scarce With "Pistol Packin' Mama" Most in Demand in Greeley," reported that one local music store received 75 orders for the hit tune "Pistol Packin' Mama" and had received only five records. Other hit singles almost impossible to obtain at this time were "Paper Doll", "If You Please", "People Will Say We're in Love" (from the musical, Oklahoma), and "In My Arms".
"Pistol Packin' Mama" was written in 1942 and recorded in 1943 by Clarence Albert Poindexter (1905 – 1984), professionally known as Al Dexter. It became his best-known song, sold three million copies in two years, and was one of the most popular songs during World War II. Billboard magazine ranked it as the most played jukebox song in 1944. Dexter was born in Jacksonville, TX, and was a house painter turned singer, songwriter and guitarist. He performed in bars and clubs in east Texas, popularized a style of music called "honky tonk", and recorded "Honky Tonk Blues" with James B. Paris in 1936.
There's more, however, to the story behind "Pistol Packin' Mama". Its tune comes from a traditional folk song often played on a fiddle, called "Boil (Bile) Them Cabbage Down". Evidence suggests it originated with slaves brought to America from Niger, Africa in the 18th century. Dexter's lyrics were inspired by actual events. A Texas newspaper, The Cherokeen, reported on August 4, 1939 that Red Creel, a bootlegger, was involved in a shootout with Cherokee County sheriff Bill Brunt and both men were killed. The commissioners' court appointed Brunt's 26-year old wife, Mary Dear Brunt, as the new sheriff. She wasted no time, strapped on a pistol, and completed in 1940 her husband's unfinished term of office.
"Pistol Packin' Mama" resonated with American audiences. On April 6, 1944, acclaimed violinist David Rubinoff and his accompanist performed at Gunter Hall at the Colorado State College of Education (now the University of Northern Colorado) for 500 college students and townspeople. Rubinoff played "Dance of the Russian Peasant," and Provost's "Intermezzo." The April 7th Greeley Tribune reported that, "To the delight of his audience, he then played "Pistol Packin' Mama" as it would be played in the Russian, Persian, Scottish, Irish, Toscanini, and finally, boogie-woogie manner."
But wait. . . . what about "Boil Them Cabbage Down", the original song sung by African-American slaves? Another story unfolded with Greeley roots. Greeley native Margaret Ann (Maggie) Peterson Mancuso is one of four musically gifted children born to Dr. Arthur and Tressa Peterson. Maggie became a television actress and starred as daughter Charlene in the fictional musical hillbilly family, the Darlings, on the Andy Griffith Show. The Darlings were actually a bluegrass band, The Dillards. Maggie sings "Boil Them Cabbage Down" on an episode of the show which can be accessed on YouTube. Prior to her appearances on the Andy Griffith Show in the 1960s, Maggie was the vocalist in the Ja – Da Quartette with her brother Jim Peterson (banjo) and his friends Don Royer (pianist) and Gordon Ellinger (drums). In 1954, the Ja – Da Triad won the championship Kiwanis Stars of Tomorrow show, competing against contestants from Greeley, Ft. Collins, and Longmont. The enthusiastic teenagers took their music on the road in Greeley performing from the back of a pickup truck. The Ja – Das performed two summer seasons at the Stanley Hotel in Estes Park and were "discovered" at Arthur Godfrey's Talent Scout Show at Cheyenne. Dick Linke, their manager, signed them with his "stable of stars" and later they were represented by the Wm. Morris Agency of New York. The group appeared on the Pat Boone and Perry Como television shows, at gigs in New York, Las Vegas, and internationally and they signed a recording contract with Warner Brothers records. The Ja – Das performed at the 1960 VIII Olympic Winter Games at Squaw Valley, CA and on the Art Linkletter show held there for the Olympic contestants. After a final appearance on the Perry Como Show March 9, 1960, the Ja – Das disbanded. Jim, Don and Gordon left for college, and Maggie continued her vocal and acting career. Maggie's sister, Phyllis Peterson Eaton, became a concert pianist who taught privately and at the University of Northern Colorado (UNC) and performed with the Greeley Philharmonic Orchestra for 40 years.
The pandemic cannot halt the musical fervor of Greeley residents. Recently, Gal Faganel a cello professor at UNC, gathered with his family at Glenmere Park in town. The beautiful setting inspired him to hold music classes in the park for a few students. The outdoor venue preserved social distancing mandates, and provided a welcomed respite from Zoom-based instruction. Walkers in the park appreciated the music played from the pavilion too. Faganel relishes outdoor adventures and has packed his cello to the summit of several of Colorado's Fourteeners (14,000 ft. mountains), including a trek and video recording of his climb to Long's Peak in 2013. His feats remind this author of Greeley's Silver Coronet Band whose members summited Long's Peak with their instruments on September 21, 1880. After catching their breath and enjoying the breathtaking views, the band performed a concert of patriotic songs.
I'm tired of this pandemic. Tired, too, of the sweltering summer heat, but grateful for recent rain and snow that has squelched the smoke and ash from the devastating Cameron Peak fire in Larimer County. The cooler weather is a welcome relief, and my blue mood has shifted to the upbeat refrain of "Blue Skies", a 1926 pop song by the iconic and incomparable Irving Berlin:
Blue skies, Smiling at me, Nothing but blue skies, Do I see.
Blue days, All of them gone, Nothing but blue skies, From now on.
Submitted by:
Peggy A. Ford Waldo
September 14, 2020