We probably should have timed this post with the anniversary of the 1941 bombing of Pearl Harbor which was December 7.  But truly, it's never too late to write about an important topic, or to revisit its importance in American history. And you know that saying, "I wish I could've been a fly on the wall?" Well, reading through a collection of letters elicits this sentiment.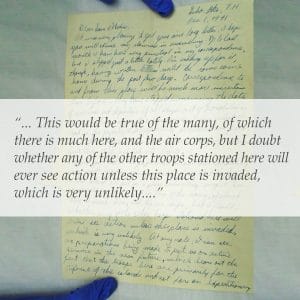 Our Assistant Registrar Darcy was reading through a collection of letters and clippings from the Busch family to arrange them chronologically. What's interesting about the collection is that 5 of 8 siblings served in different military branches. They had 5 sons and 3 daughters and 4 sons and a daughter served our country. One son, 1st Lieutenant Solomon A. Busch, did not return home alive. His brothers Captain William Busch, Lieutenant Rueben Busch, and Yeoman Benjamin Busch, and Second Class Martha Busch were more fortunate.
What is most interesting is that one of the brothers, Private Reuben Busch was stationed in Hawaii just before the bombing of Pearl Harbor occurred. He wasn't stationed on Oahu or in Pearl Harbor, but he was on a neighboring island. In letters written to his family, he discusses the majestic beauty of Pearl Harbor and his life in Hawaii. In fact, Reuben wrote a letter to his brother Sam and Nadine Busch on December 1, 1941 discussing his Thanksgiving on the island and the fact that he didn't believe America would go to war with Japan. He tells his family that war was unlikely. The tone of the letter is light and almost carefree for a service member–just days before December 7, 1941–the day that would lead President Franklin S. Roosevelt to call it "a date which will live in infamy" in an address to Congress.
Reuben's next letter was written on December 26, 1941, and his tone becomes completely different. He dares Japan to try again and there is hostility that can be felt reading his letter. Reuben discusses what it's like in Hawaii since the Pearl Harbor event and urges his family not to worry. He also discusses censorship, writing his grandfather in German and hoping the letters wouldn't be confiscated, and being under a blackout during Christmas. The tone, in less than a month, had completely changed.
The collection of letters read by our assistant registrar included those from another Busch brother named Solomon. Solomon wrote to Sam from the start of his military enlistment until his passing. Solomon also wrote to Reuben and back and forth, the brothers wrote about their hopes to see one another as they were both stationed in the Pacific. Ultimately Solomon, who was a paratrooper, was killed in the Philippines during the war.
There's also letters from another brother, Ben Busch, and their sister Martha who also served in World War II. Together, the letters offer a keen insight into a family's commitment to their country during the war.
The fact of the matter is this. Often times folks come across items that seem trite, or matter-of-fact. Heck, there were probably hundreds of letters written by individual service members during World War II. It was how people communicated back then. However, unless someone cared enough to preserve and protect them, these types of insights would be lost forever.
As World War II was the most widespread war in history, it's important to preserve items that come from a local level and hopefully share them with future generations for the purpose of growth and learning.
Written in collaboration with Registrar JoAnna Luth Stull and Assistant Registrar Darcy Wallshein