Preparations are underway for Centennial Village Museum's annual not-so-haunted Hall House, a popular attraction hosted during the museum's annual Howl-O-Ween trick or treat event. Museum staff are thankful that it's even happening.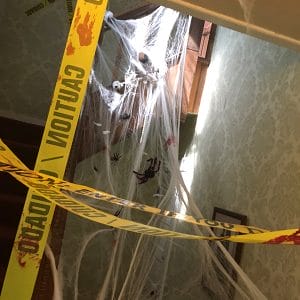 This year, the team in charge of the Howl-O-Ween event almost had to remove the haunted house from its event list. There weren't any volunteers interested in putting in the long hours needed to both decorate and run the attraction.
That's when three super great sophomores from Greeley's University High School volunteered to make Centennial Village's Hall House a frighteningly good time for guests.
School was out for a few extra days this week, so three friends–Morgan Kirtley, Roaringbrook Smith, and Tyler Whitmoyer–chose to spend their long weekend decorating the inside of the museum's Hall House in preparation of this weekend's Howl-O-Ween event.
Their school has a policy that requires its students to complete at least 50 hours of volunteer work in the community. The group hopes their work at the museum will count toward those hours.
Smith is no stranger to racking up volunteer hours. Last year she was honored with the Presidential Service Award for volunteering.
According to Kirtley, when the trio learned about the opportunity to volunteer, organize, and run the haunted house, it seemed like fun. Kirtley hopes to study engineering in college, so he's putting his skills to good use. The trio fashioned a mock electric chair as one of its props. They've also had to figure out how to hang decorations using unconventional methods. Since it's the historic Hall House, the kids can't just put nails in walls, they have to get creative about where and how they can hang decorations.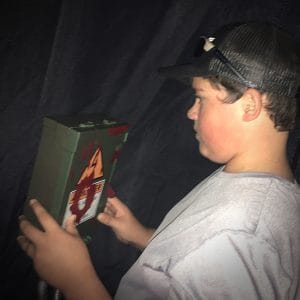 Whitmore has volunteered for the museum several times in the last year but says, "Halloween is definitely my favorite event."
In all, the group has used several boxes of webbing, rolls of caution tape, and a dozen or so black sheets to decorate the home. There are skeletons,
spiders, pictures, black lights, a fog machine and more—all of which have created the perfectly spooky, historic house tour.
Smith adds that they want this to be a good haunted house experience, for folks of all ages. "We can always make it less frightening if parents ask us to make it less scary," she says.
Children must be accompanied by adults and for good reason. According to museum curator Scott Chartier, "We want to keep this a family-friendly, safe evening event." And knowing that for many local children, the haunted house at Centennial Village is their first haunted house experience, makes it even more important for parents to be present.
Howl-O-Ween happens Saturday, Oct. 21 and Sunday, Oct. 22, from 3 to 7 p.m. both days. Admission is just $2 per child, $3 per adult and includes trick or treating, music provided by Aims Student Radio in Hanna's Square, wagon rides, and the haunted house. For specific details about the event, visit its webpage.