In 1870, when this land was hardly settled and the Union Colony was young, life was not easy.
We've seen the pictures and heard the stories of hardship, struggle, and the hard-won success of those early Greeley residents. But wasn't there another side to their life? Where did they find beauty and pleasure? There is plenty of archival evidence that the Colonists worked hard to provide a rich cultural life here from the very beginning. But how about music in particular?
In fact, you might say the plains were alive with the sound of it!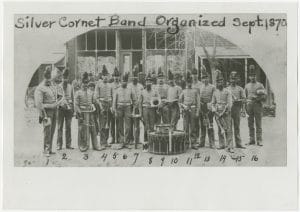 AI-0279, Greeley Silver Cornet Band, Date and photographer unknown. City of Greeley Museums, Permanent Collection.
Greeley's own Silver Cornet Band was organized in 1870. Bands like these were popular during the Antebellum and Civil War years, and the fact that one appeared so early in Greeley's history is a sign of how important it must have been, both as a way of fostering relationships among new settlers, and as a means of providing entertainment.
We should note that the phonograph was not invented until 1877, and the first radio broadcast for entertainment and music was heard in 1906.  Before those watershed moments, then, there were two ways to enjoy music: play and sing it yourself (alone or with others), or listen to someone else perform it "live". According to David Boyd, early resident and historian of Greeley, there were many good musicians here between 1870 and 1880. The Inman brothers – John, George, William and Joseph – gave concerts regularly, even performing cantatas in 1873 and 1874. The 1875 Colorado Business Directory lists George Inman as a music teacher in Greeley.  An 1888 business directory includes "Books and Musical Instruments", with G. D. Horne as proprietor. Rounding out the picture, we know that Professor S. M. Birdsall provided a "Singing School" for the older children of the colonists, using his own new methodology.
Apart from lessons, concerts, and church choirs, an important venue for musical performance and pleasure would have been music in the home. This photo shows the W. C. Baker family, circa 1885 -1900, gathered around the piano. The family came here in the 1880s, and W. C. was mayor of Greeley from 1896 to 1901, at which time the family left for California.
In view of this solid musical foundation, perhaps it's not surprising that in 1907 a group of ten local women formed an organization called The Fortnightly Music Club. They wanted to encourage interest in music among all Greeley residents and to provide an opportunity for members to develop and share their own musical talents. The City of Greeley Museums' collection of their programs and yearbooks is strong testimony to their remarkable success in achieving both aims.  In a short time, the Fortnightly Music Club outgrew its own aspirations and resources, leading to the inception of the Greeley Philharmonic Orchestra.  The rest, as they say, is history – and the future is up to us!
Written by Lenore Harriman, Archives Assistant