FOR RELEASE —  Pets 'n' Popsicles returns to Centennial Village, 1475 A St., for the third year in a row. The event, which celebrates farm animals and pets, is every day from Friday, August 5 through Sunday, August 14, from 10 a.m. to 3 p.m. The event features a lower admission price this year: $2 per person, ages 2 and older. A Popsicle is incl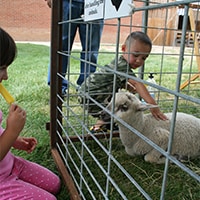 uded with every paid admission.
Sponsored by Agfinity, the event features a variety of animals such as ducks, rabbits, sheep, goats, turkeys, and more, and pony rides are offered on weekends. Staff and volunteers are on hand during the event to answer questions.
For more information about this and other City of Greeley Museums events, visit greeleymuseums.com or call 970-350-9220.
###
For more information, contact:
Sarah Lester, Museum Educator
970-350-9275
Sarah.lester@greeleygov.com