A Reflection by Katalyn Lutkin, City of Greeley Museums Archives Assistant
I started processing the Camp Family Collections in July of 2016. At that time, there was only one donation with several more on the way. In the last 3 years, I have processed 13 collections from Camp family descendants from around the country. Through the processing, I rehoused the collections to bring them up to archival standards to ensure the longevity of the materials. I also created finding aids for each individual collection that shows what the collection holds, how it is arranged, and family members and friends that are associated with the collection. Each of the finding aids is available online. Some of the unique rehousing projects included making a box for Charles Camp's boots and making a box for a doll that belonged to the family of Archibald Camp III's wife, Marie Puttkammer Camp.
After the processing of the collections was complete, I then started scanning and cataloging all correspondence and photographs to create better access to the materials through City of Greeley Museums' cataloging system. This part of the project I started in July of 2017 and completed in April of 2019. All together, 854 individual items were scanned and cataloged and are now searchable in our cataloging system by either subject, description, or person searches. The hope is to one day incorporate these catalog records, scanned photographs and letters on Weld on the Web!, a public access database co-created by City of Greeley Museums and the High Plains Library District. It was amazing to see the evolution of the Camp family through their letters, photographs, and artifacts and I am grateful that I was able to work on it for so long.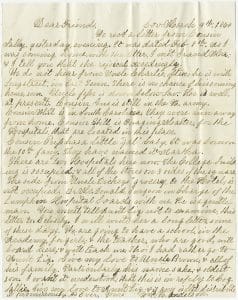 First page of a letter from Sarah Frances Camp Anderson to her brother Archibald Lacy Camp, March 4, 1864. Donated by Jeanne Gooden Burkhardt.
Much of the Camp Family Collections were donated to City of Greeley Museums by Jeanne Reid Gooden Burkhardt who organized a comprehensive assembly of ephemera related to her paternal ancestors. Jeanne passed away May 14, 2019. Her passion for preserving the memories of her ancestors was unprecedented; she will be missed.